Dear Friends of the "Hope for Europe – Women in Leadership" Network!
Notice our new logo with the cross in the middle, the sign of the transforming Gospel, which christian women are called to share.
This is our expanded team since spring 2022: 11 ladies from 8 European nations – led by Elke Werner (chair) and Hannelore Illgen (co-chair).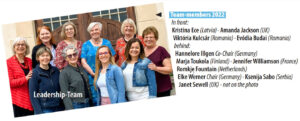 * During one of the plenum sessions, Elke Werner will give a mini-presentation of "Women in Leadership".
* In a workshop, called "Builder Group" and open for all participants, we will discuss our our vision and practice and how it can be involved to build the Kingdom in Europe.
* In another Workshop, called "Pitches" as well open to all participants, we will elaborate some provoking areas in our vision and practice.
* We are offering four workshops, which are are open for men and women, which are covering areas like "Women and men working and leading together", "Hierarchy in the Kingdom", "What Jesus really taught about women", "Our dream: Networks of Women in every European country"
Resources for some of these topics can be read and downloaded here.
We are glad to announce our next "Women in Leadership" conference!
More information and the possibility to register will follow end of the year.
We hope to see many of you next year in Sarajevo!
The "Women in Leadership" Team